Arvind Envisol Advance Septic Tanks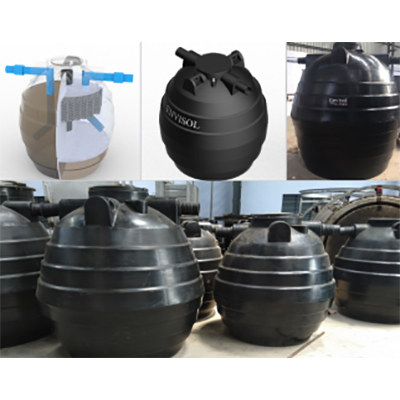 Arvind Envisol Advance Septic Tanks
Price And Quantity
Unit/Units

17.00 - 20.00 INR
Product Description
Arvind Envisol Advance Septic Tanks
Arvind Envisol Limited was launched in 2011, as a part of Arvind Ltd., a 1.7 billion USD global conglomerate. We are a world class water management company providing end-to-end solutions for water treatment, sewage treatment, industrial waste water treatment and zero liquid discharge solutions at minimal cost.
Today, we are a company with a growing portfolio of clients who trust us with the responsibility of purifying, replenishing and recycling their water resources.
In line with our innovative past we have designed ARVIND PRE-FABRICATED SEPTIC TANK made up of FRP & LLDPE with a robust & durable design, capable to take necessary earth pressure. The primary focus of Arvind Septic Tank is Sanitation. It has a compact design and can be utilized at any location to treat sewage to an extent that it can be safely discharged to a soak pit or a drainage system. It is widely popular in areas with poor drainage system or lack of sewer network.
22 END TO END 100+ 150+ Registered Offerings - projects, Million Litres Projects executed Patents across the globe component and O&M water processed per day till date
Introduction
Improper disposal of domestic waste-water from residential & commercial places, industries, institutes, hotels, resorts, public toilets etc. leads to contamination of ground water & drinking water sources and thus adversely affects the aquatic & human health by causing several water-borne diseases. Hence, it is extremely necessary to take actions for safe disposal of domestic waste-water esp. in areas which lack sewer network. The best and the easiest solution for disposal of domestic waste-water at source is a 'Septic Tank'.
A Septic Tank is a primary waste-water treatment unit working on principle of sedimentation & biological decomposition.
ARVIND ADVANCE SEPTIC TANKS
Made of specially designed & durable LLDPE Material.
Available in capacity range between 1200 Lit (1.2 KL) to 5000 Lit (5 KL).
A special design which helps the solids in sewage to properly settle down by providing optimum retention time and in decomposition of organic matter due to proper anaerobic conditions.
The tank is divided in 2 (two) Zones :

A. First Zone: Receives the wastewater from all domestic activities (bath area, toilets, kitchens etc.). Major role is separation of scum, solids & water by sedimentation and anaerobic decomposition.
B. Second Zone: Contains specially designed floating Bio media which provides extended surface area for micro-organisms to grow, which enhances BOD removal.

Life Span of more than 25 years.
Features :
Rust Proof and Leak Proof
Much more durable compared to conventional Brick Masonry/RCC Septic Tanks
Designed to add resilience and strength
Excellent performance through enhanced reduction of BOD
Completely water-tight & air-Tight
Tank body will not need any maintenance
Light Weight
Easy to Install
Can be easily Relocated
Better appearance
Applications :
Treatment of Domestic Wastewater generated from the below units.:
Individual Bungalows/villas and Societies
Residential & Commercial Buildings
Industries
Hospitals / Individual Clinic
Hotels/resorts/Clubs/Restaurants
Schools/Colleges/Hostels
Public Toilets
Portable Toilets
| | |
| --- | --- |
| ARVIND SEPTIC TANK | CONVENTIONAL SEPTIC TANKS |
| Made up of FRP/LLDPE | Make up of RCC /Brick-Masonry |
| Corrosion (Rust) Proof | Prone to Corrosion |
| Leak Proof | Leakage/Cracks over a period is very common and hence needs regular maintenance. |
| Completely Water Tight | Tend to leak over a period and hence can contaminate surrounding ground water |
| Much Easier to install | Construction takes time |
| Can be relocated | Can't be relocated |
| Much more durable | Comparatively lower durablity |
Technical Specification :
Septic Tank Capacity (KL)

Dimensions

MOC

No. of Users

Height/Length (mm)

Dia (mm)

Toilet wast only

Ins. Office/Ind Including Canteen

Residential Places

1.2

1480

1270

LDPE

17

11

6

2

1720

1515

LDPE

29

18

10

5

2275

2100

LDPE

71

45

25

6

2400

1800

FRP

100

67

30

7

2800

1800

FRP

117

78

35

8

3190

1800

FRP

133

89

40

9

3585

1800

FRP

150

100

45

10

2940

2200

FRP

200

125

50

15

4255

2200

FRP

300

188

75

20

5570

2200

FRP

400

250

100

25

6885

2200

FRP

500

313

125

30

8200

2200

FRP

600

375

150

35

9515

2200

FRP

700

438

175

40

10830

2200

FRP

800

500

200

45

12145

2200

FRP

900

563

225

50

13465

2200

FRP

1000

625

250
Contact Us
504,Shilp The Address Adjacent to Shilaj Circle S.P Ring Road Shilaj, Ahmedabad, Gujarat, 380059, India
Phone :+918037268024